Deadly 7.8 magnitude earthquake strikes Turkey and Syria, leaving devastation in everyday life for all
A 7.8 magnitude earthquake killed over 50,000 in Turkey and Syria toppling many structures and buildings on top of those standing in and nearby.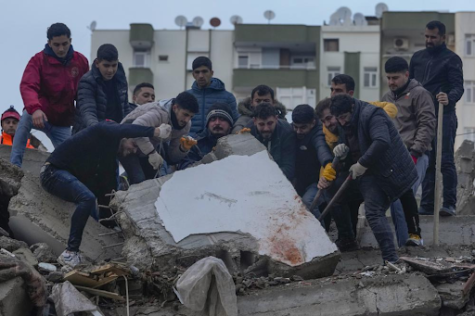 The earthquake occurred February 6th of this year, sending shockwaves throughout the region and leaving a trail of destruction in its wake. In addition to the tragic loss of life, the earthquake caused widespread power outages, disrupted transportation networks. Rescue teams from neighboring countries quickly mobilized to assist with the search and recovery efforts, working tirelessly around the clock to help those affected by the disaster.

As the first responders struggled with rain and snow, survivors trapped under piles of debris cried out for help. The seismic activity persisted, with another powerful aftershock nearly as strong as the initial earthquake. Meanwhile, workers cautiously removed chunks of concrete in search of bodies while anxious families anxiously waited for updates on their missing loved ones.

Residents in Damascus and Beirut were forced to evacuate onto the streets as the epicenter of the earthquake, located in Turkey's southeastern province of Kahramanmaras, shook the region. The seismic waves were felt as far as Cairo, emphasizing the severity of the quake's impact.

The affected area in Syria is split between government-controlled areas and the last opposition-held stronghold, surrounded by government forces backed by Russia. Meanwhile, Turkey, home to millions of refugees from the Syrian civil war, has now been hit by yet another devastating event.

As the search and rescue efforts continue, the scale of the devastation wrought by the earthquake is becoming increasingly clear. The death toll, which currently stands at over 11,000, is expected to rise as more bodies are discovered amid the rubble. The destruction of vital infrastructure, including roads, bridges, and power lines, has hampered relief efforts, making it difficult for aid to reach those in need.

Nevertheless, rescue teams from neighboring countries and beyond are working tirelessly to provide support and assistance to those affected by the disaster. Despite the immense challenges, the people of Turkey and Syria remain resilient in the face of adversity, determined to rebuild their shattered communities and move forward from this tragic event.
Leave a Comment