NASCAR heads into finals with an incredible second wind
On Oct 31st NASCAR had its first ever successful wall ride in its 74 years of racing, the race looked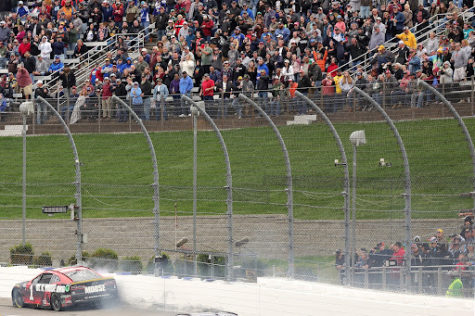 standard, for the most part, that is until the final lap…
On the final lap, Ross Chastain needed to go up 5 positions to go to the final playoffs, the finish line was coming up quickly, so he decided to give an absolute Hail Mary of a saving throw.
Ross Chastain attempted a wall-ride, and succeeded, he moved up more than the 5 places he needed to move into and secured 5th place. Landing him a secure position in the playoff finals 
After the race in an interview, Chastain stated that he has first seen a race car do a wall ride when he was younger playing a NASCAR video game on the Nintendo Game Cube, He hadn't tried a wall ride in the past because he wasn't sure about if the physics would work in the real world.
However, the make-or-break moment had arrived to try it out, if he didn't he would've likely not made it into the finals. So he sent it and kept going, even the pit crew was telling him to just keep going
Sadly however Chastain was unable to win the finals, he ended up securing 3rd place, either way,  he still managed to make NASCAR history.
Leave a Comment
Donate to Canyon Hills Chronicle
Your donation will support the student journalists of Canyon Hills High School. Your contribution will allow us to purchase equipment and cover our annual website hosting costs.