NFC Championship Preview: Excitement, the only guarantee
January is one of the most exciting times to be an NFL fan, whether your team is playing or not, as the best of the best face off in th
e tournament to decide who will be crowned the Super Bowl Champion. This January in particular has blessed us with some of the most exciting games that will surely go down as classics. NFL fanatic, junior Aaron Russell, and avid 49ers fan junior Lucas Hagge to discuss the exhilarating postseason and the upcoming 49ers Rams NFC Championship game.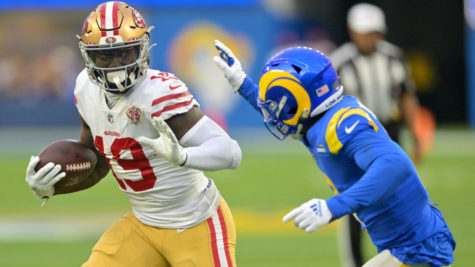 Russell was disappointed to see his Chargers not make the playoffs, but that hasn't kept him from enjoying these games. "The playoffs have been extraordinary, this is the first playoffs in several years that have kept me glued to the TV," said Russell Hagge's 49ers creeped into the playoffs as the final seed in the bracket, and have surprisingly survived all the way to the NFC Championship Game, just one win away from a trip to the Super Bowl. Hagge describes his experience in these past weeks saying, "They've been an underrated team and everyone counted them out to make it this far so it feels good to be a 49ers fan."
Hagge goes on to explain their surprising Cinderella run, explaining that "the whole team has great chemistry with each other."
This run may however come to an end on January 30, where they will compete against the Rams to decide who will represent the NFC in the Superbowl.
"Honestly I think the Rams can take it," says Russell. "The Rams have a well rounded roster, and have one of the smartest GMs in the league.
Hagge disagrees with this take, saying "My prediction for the 49ers Rams game is 24-21 49ers."
Nonetheless, the game is sure to be exciting and filled with emotions for both fan bases and players.