Girls varsity field hockey wins CIF
The girl's field hockey team remains triumphant this year, securing a win in the open division CIF championship against Torrey Pines in what could've been a close match. 
Prior to their CIF win, the girls haven't faced a loss-making them one of the few undefeated field hockey teams in San Diego. However, captain, Mia Clark, says that this was the one game they felt could've gone either way, even with the confidence they had in themselves and their abilities.
Clark says, "Torrey Pines is one of our toughest opponents, this had the possibility of being anyone's game. I was not fully confident that we would win."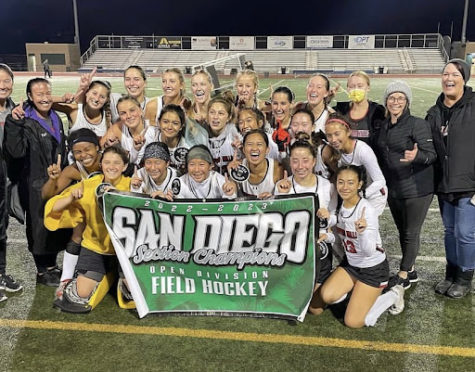 The girls had a lead almost the entire game until Torrey Pines scored on them in the last quarter, intensifying the girls' nerves, but Clark and her team were still determined to pull out a win.
"We need to score like we need to finish it," says Clark about the tie between the two teams.
Luckily, Clark's teammate Ryan Robinson was able to successfully block a penalty shot from the Torrey Pines girls, which could've made the game turn a completely different way
The game remained 1-1 until Clark drove to the net and scored a seventeen-yard shot on the Torrey Pines team, twenty seconds before the quarter could end, preventing them from having to go into overtime.
As one of the captains, Clark says that prior to the game, while winning or losing was something she was thinking about, she says that it was also about how she would go about the outcome of this game with her team. Both teams are amazing players, and the Canyon Hills girls knew that even with their potential, they couldn't misjudge any team. 
"Worst case scenario, if we got scored on, my career-defining moment", Clark says, "will be how I choose to respond to that, as a captain, how I would carry myself, what I would tell my teammates. I knew that I had to be ready for anything for that game."
The game was certainly stressful in those last moments, on whether the ball was going to make it or not, but luckily it had.
Clark says, "It was such a thrill, it felt like a movie, and I was in shock afterward."
Leave a Comment
Donate to Canyon Hills Chronicle
Your donation will support the student journalists of Canyon Hills High School. Your contribution will allow us to purchase equipment and cover our annual website hosting costs.