Cheerleaders show school pride for all sports at CHHS
Cheerleaders at Canyon Hills High School cheer for multiple different sports and have lots of fun doing so.
Cheerleaders practice every Monday, Wednesday, and Friday from 3:45 to 5:45.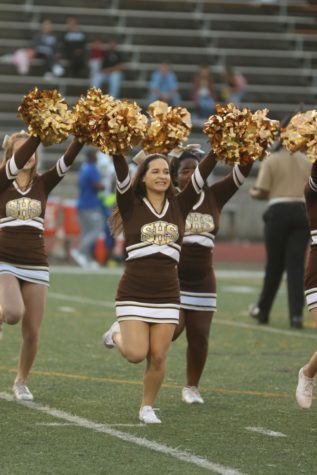 Senior Iyana-Divinie Isom says "what we do at practice depends on what we have going on at the time. If the season of whatever sport we're cheering for hasn't started yet, then normally during practice we would learn/practice cheers. If the seasons already started then we're working on routines for homecoming or formal or cheers to do during games."
Some cheerleaders have only been cheering for the basketball team this year, whereas others have been cheering for the entirety they have been at high school.
One of the newer cheerleaders, sophomore Brianna Estrada says her "favorite thing about performing at the games is probably getting to have lots of fun getting to stunt at half time and entertain the crowd and getting to cheer the girls and boys on."
Varsity Captain, senior Nevaeh Paschall, says that her favorite thing is "getting the crowd involved and seeing everyone having a fun time," while Isom said that hers is "doing cheers and it's really cool when the crowd joins in cause we sound super loud."
There are many cheers that the Canyon Hills cheerleaders learn to perform at games and during halftime.
"My favorite cheer would have to be 'Rattlers in the Front' formerly known as 'Q's in the Front'… it's my favorite because I'm the one in the middle and I get to put on a show for whoever I decide to look at for the time being and it's just an interactive cheer," says Paschall.
Isom said that her favorite was also 'Rattlers in the Front' as it is a crowd favorite and the parents and band know it so they join in. While Estrada said hers was 'clap your hands' or 'F-I-R-E' it up because of the beats they do to the cheer.
Estrada said that her favorite thing about being a cheerleader is "that I get to build a bond with the other cheerleaders and have fun with them getting to build a sisterhood."
Isom's favorite thing is "cheering on teams at school and getting the crowd hyped up."
Paschell said that her favorite part of cheerleading is her "uniform. Like the way it fits on me and being able to go to other schools and meet new people."
Isom said, "I decided to become a cheerleader because I thought it would be fun and it would be a good way to make new friends."
"It was a matter of my friends wanting to try out and I wanted to do something different for high school so I tried out. I still to this day am surprised I made the team but here I am 4 years later as varsity captain." Said Paschall.
Leave a Comment
Donate to Canyon Hills Chronicle
Your donation will support the student journalists of Canyon Hills High School. Your contribution will allow us to purchase equipment and cover our annual website hosting costs.