New mascot slithers onto campus
A new mascot has officially been launched to represent Canyon Hills, following almost three years since the name change initiative spurred by former students.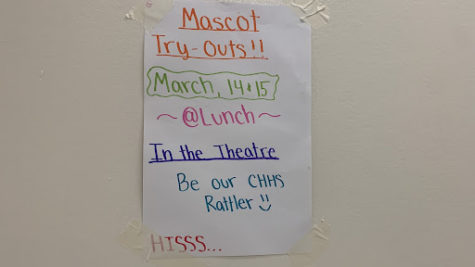 From Conquistadors to Rattlers, Canyon Hills has gone through a thorough identity change from the sign that welcomes students at the school's front to the way students have found a way to channel their school spirit with the new Snake Pit or our first Royal Rattlers Step team. 
The community of the school has done well at moving forward in this identity, there was still that one thing that was still missing and was almost unforgettable: the funny-looking conquistador mascot that was at every game. However, that is no longer the case, with the announcement of the new mascot and costume, for a brave student to take the role and finally instill that missing piece in our school's spirit.
Susan Skinner, counselor and class coordinator, says, "It gives us something to rally behind, it gives us something for spirit" and, "I'm looking forward to having the mascot and everything, to having an alma mater, and [to] really getting our Canyon Hills solidified."
Some students, however, have expressed that the mascot has felt overdue, especially seniors and don't really care about this new addition to the school.
Senior Emily Melendez says, "I'm kinda upset. Where was the hype at the games? We could've had that school spirit."
Tryouts for this spot were being hosted by ASB in the school's theatre on March 14th and are also being held on the 15th too. However the date of who will be announced as the new mascot or when students can expect a decision, is to be decided. 
Leave a Comment
Donate to Canyon Hills Chronicle
Your donation will support the student journalists of Canyon Hills High School. Your contribution will allow us to purchase equipment and cover our annual website hosting costs.