Is Valentine's Day Worth It?
Valentine's day is celebrated all over the world in many different ways, here at Canyon Hills High School the students and staff are selling Valentine's gram smores for $2. Valentine grams is an easily accessible way to gift friends, family, or significant others. The idea of valentines day grams is really thoughtful due to the fact that not everyone gets a Valentine's day gift yearly.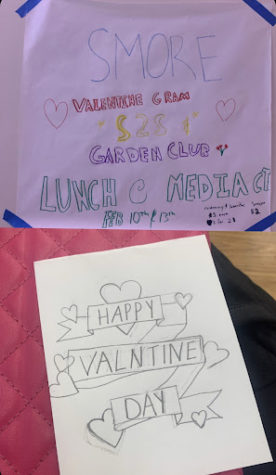 Ayla Jones, a junior from Canyon Hills High School states that Valentine's day is worth it in specific ways. 
Ayla says, "This year for valentines my dad gifted me roses and chocolate. I am really grateful to have received a Valentines day gift from my dad. This shows that Valentine's day gifting doesn't always have to involve a boyfriend or girlfriend when family and friends can also take over the role of gifting or receiving a sentimental Valentine's gift!" 
Ayla Jones also mentions that in some aspects she does enjoy Valentine's day at school, "It can be enjoyable to spend valentines day on a school day if you have the right people around you to put you in the valentines day experience".
Adrian Aguilar, a senior attending Canyon Hills High School, mentions, "It is not everyday you get to celebrate Valentine's day."
Although it's not preferred to have valentines on a school day, it does make the day more interesting. 
Senior Alissa Ketchum says, "I like celebrating valentines day, it is worth it because you get to do valentine's day related stuff, receiving and buying gifts for people and wearing color coordinated clothes for valentines is fun."
Mariya Brown, a senior at Canyon Hills High School states that she enjoyed Valentine's day as a kid growing up. 
Brown says, "My mom would take me to the store a few days before Valentine's day to buy a big bag of candy for my classmates, I would go home and write to and from cards for each of my classmates. I really loved valentines day growing up. On Valentine's day coming home from school I liked going through my candies individually. Valentine's day seems to be worth it, now that we are older I try to find  other ways to enjoy it rather than needing a valentine to enjoy my day." 
Mr. Thomas, an Art teacher at Canyon Hills High School gives students an opportunity to make valentines cards during class for fun. It is a great way to expand the spirit and give gifts to our friends. 
Leave a Comment
Donate to Canyon Hills Chronicle
Your donation will support the student journalists of Canyon Hills High School. Your contribution will allow us to purchase equipment and cover our annual website hosting costs.
About the Contributor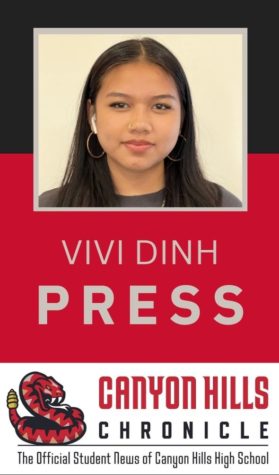 Vivi Dinh, Staff Writer
Vivian is a returning Senior at Canyon Hills High School, following up on her 4th year she looks forward to preparing for her college classes. Vivian is...