End of the 2023 MLB Season, with lots of trades and big changes, this year's season is one to go in the books.
Preseason made history when the MLB lockout happened and this was the first one since 1994. This one was because the CBA (collective bargaining agreement) expired without a new deal between the owners and players, this lockout caused Spring Training to start late and players thought this would cause the regular season to start late but it started on time. The lockout lasted 99 days.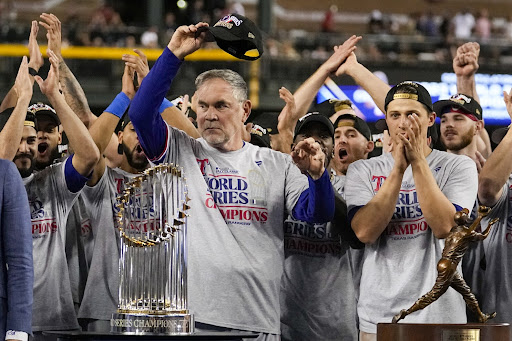 In the end, this new pitch clock rule helped all around the league. Instead of a game being 3+ hours, the pitch clock has made games 2 hours and 40 minutes which is causing fans to want to go to more games due to the shorter games. But there were many pitch clock violations that caused lots of confusion in Spring Training, and some games ended on strikeouts or walks due to the violations from batters or pitchers.
But the lockout wasn't the only crazy turn of events, this years offseason was insane as well. There were many large contracts handed out to players such as Phillies shortstop Trea Turner signing a massive 11 year $300 million contract, Cubs shortstop Dansby Swanson signing a 7 year $177 million contract, and Yankees slugger Aaron Judge signing a 9 year $360 million contract. Those are just a few of the notable contracts from this offseason.
The season officially concluded on Wednesday, November 1st, after the Texas Rangers beat the Arizona Diamondbacks in a 4-1 series win, to then win the very first World Series in Rangers history. But this year's postseason is one to remember, the Diamondbacks weren't even suposed to make it to the World Series! They started off as the underdog wild card team who beat the Phillies, Dodgers and Brewers who all were top teams during the regular season. But this isn't the first time a wild card team has made it to the World Series, last year's Philadelphia Phillies made it to the World Series, but unfortunately lost to the Houston Astros. 
After a season ending torn ACL in 2021, Braves outfielder Ronald Acuña Jr., made a comeback in 2022 but it wasn't anything special. Acuña set records in 2023 and also put together an MVP season with 60 stolen bases and a slash line of .337/.416/.596. It would be extremely surprising if Acuña didn't win the MVP considering his stats and all of this happening right after he tore his ACL.
The 2023-2024 offseason is one that will be looked at forever. The biggest free agent is Japanese-superstar 2-way player, Shohei Ohtani. Ohtani has been a big name since he broke into the league in 2018, and has just made a case for one of the greatest baseball players of all time. He is expected to sign a contract worth $500 million plus because of how good he is. Even needing Tommy John surgery, Ohtani made a case to win yet another American League MVP after the season he had in 2023 even if it was cut short. Along with Ohtani, 2019 Cy Young winner Blake Snell, who is a former Padre, is also a free agent. He made a case for the NL Cy Young this year even though the Padres didn't make it to the postseason. Snell is expected to sign a contract worth $122-$200 million, that would be a top contract amongst pitchers. This offseason will be one to remember.
Until March 28th, 2024, all baseball fans will have to wait for Opening Day.