The Dish: New Year, New Desserts
From restricting ourselves due to diet culture, New Year's resolutions have become a new method we use to cut ourselves off from what we enjoy, like food. The most common New Year's resolution is one we've all promised to ourselves at least once: we are gonna work out more, eat healthier, maintain a strict diet, etc. However, that isn't to say something that isn't exactly "healthy" isn't good every once in a while, and what is more perfect to indulge in than a delicious personal tiramisu that can be also a fun experience to make!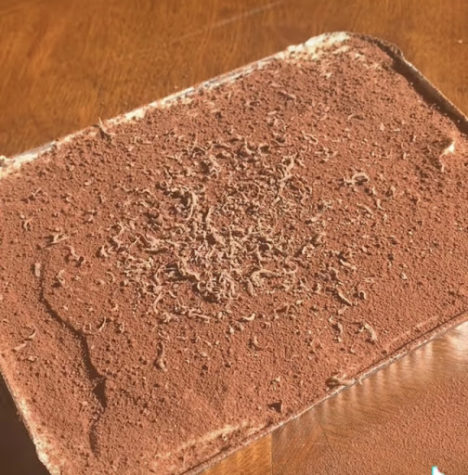 Tiramisu is similar to a trifle: you have layers of cream and a light sponge cake called ladyfingers, however, in a tiramisu, you dip your ladyfingers, in espresso mixed with a bit of rum, top with cream, a sprinkle or cocoa powder and then repeat till you have reached the edge of your dish. 
You can find pre-made ladyfingers at stores like World Market, Vons, etc but making them is so easy and more rewarding in the end. Ladyfingers are just sugar, egg yolk, egg white, flour, and vanilla and once you have the batter, instead of piping out each individual lady finger, I bake it all together like a sheet cake in a jelly roll pan, however, beware spreading the batter too thin to avoid a dry ladyfinger.
Once 10-11 minutes is up, I remove the ladyfingers from the oven and wait till cooled to brush with an espresso-rum mixture. The first time I made tiramisu, I didn't have espresso and just used store-bought cold brew, however, the strength in the coffee flavor in espresso makes for a better flavor profile in this dessert overall and is highly preferred to use. This time around, I just bought eight shots of espresso from Starbucks.
While the ladyfingers bake, I begin making the cream/filling. When I first made tiramisu I looked at multiple recipes and videos and learned that authentic tiramisu doesn't contain heavy cream like many recipes online do, instead it uses egg white to make a meringue to fold in with the egg yolk-mascarpone mixture.
After you have everything ready, you can begin layering and if you want to try something different or put a spin on it, drizzling homemade salted caramel really amps up the flavor and sweetness, or for something a bit simpler, you could go with chocolate shavings between each layer. Once you have neared the end of your dish/pan, you can cover it and let it sit in your fridge. I let it sit for about a day, especially since it's said the flavor deepens the longer it sits. 
After that you are done and cut into it like you do a lasagna and dive in, 2023 will be a year of deliciousness with this tiramisu at the forefront!
Leave a Comment
Donate to Canyon Hills Chronicle
Your donation will support the student journalists of Canyon Hills High School. Your contribution will allow us to purchase equipment and cover our annual website hosting costs.