The student body was buzzed when the day for the 2023-2024 homecoming dance was announced. Between the spirit week leading up, the fun of the last football game, and the excitement of the dance itself, what wasn't there to look forward to?
Unfortunately, the Homecoming dance fell flat this year.
My first ick was the theme. Candyland was definitely an interesting choice. While I loved the decorations at the dance, I wasn't too keen on any of the other decorations around campus, the pep rally, or the expectations for how students should dress up to be on theme. Spirit Week had cool names for the days, though.
Before the dance had even come around, I also immediately had an issue with the ticket prices. They once again raised an additional $5 from last year: $25 instead of $20 (ASB card discount), $35 instead of $30 (regular price), and $45 instead of $40 (last week's sales). Inflation is real, but it is frustrating that the school is taking part in it too, especially when the quality of our dances and events is worsening.
There were also issues with purchasing tickets. The school had announced that tickets would be selling online until the final Monday before the dance. However, they were removed the Friday before. Not the worst problem in the world, but incredibly inconvenient for students who were planning on buying them online over the weekend.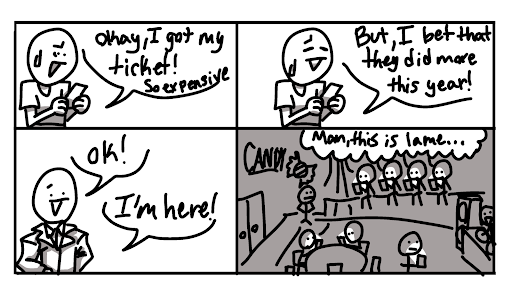 When I got to the dance, I thought the free Kona Ice was cool (and tasty). My date and I also had fun with the photo booth, the photo strips were a nice souvenir! However, that was kind of it. I danced a bit, but for the most part, I mostly wandered around with my friends and caught up with peers until we were able to leave (we ended up going to In N Out. The traffic was more exciting than the dance, to be honest).
One thing I did appreciate that ASB did was make Adam Tran the Honorary Homecoming King. He is my brother, and my family was so excited for him. We all appreciated this act of kindness! 
Overall, though, I was disappointed with my senior year Homecoming dance. I hope ASB can improve for formal and prom, and improve for the years to come.