It's pretty clear that horror and thriller movies have gotten pretty stale, especially recently with entries such as, The Pope's Exorcist and The Boogeyman. However, Saw has always been an interesting franchise. It's always been an interesting concept, having distinctive traps and games that basically define the phrase, "the punishment fits the crime."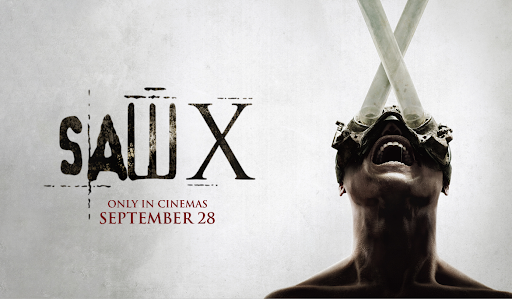 John Kramer, is a man who kidnaps people and sets them up in life threatening situations in order for them to change their ways. The first Saw was groundbreaking because of how unique the idea was. It wasn't a standard horror movie, there was a lot of thought put into it and it was a great movie. But after Saw 4, it got less interesting and got pretty ridiculous, and the later entries were very mediocre. 
Saw X however, breaks the chain. Chronologically, it takes place in between Saw and Saw 2. In this movie, we see that John Kramer is diagnosed with cancer, so he travels to Mexico in order to get a medical procedure that will cure him. He then finds out that the whole operation was a scam, in order to fool those who are in dire situations. So, because of that, he kidnaps the con artists, and sets them up in his brutal traps. 
The traps in this movie are great. They're extremely brutal and they lack no creativity. It was awfully tense and there were a lot of moments that made you feel very uneasy with the amount of gore and nerve racking situations. The writing was also good but the pacing did feel slow around the beginning. All around, it's pretty solid and undoubtedly one of the better movies in the franchise.