Applying for college poses unique questions for military students
   The first bell rang signifying the official start of the school year.
     Seniors all around begin hearing non-stop about college. 
     "Better start applying." 
     "Where will you go?"
     Their hearts start to race and their heads begin to spin as eventually the questioner realizes – they asked the wrong person. 
     For a military child, the topic of college is but a tough and tricky one. Due to the mere fact that they move just about every three years, they have no permanent state of residence— making the matter of tuition a problem. 
     Many colleges have certain accommodations for military children when it comes to paying for college. Most allow them to pay in-state tuition even if they have never lived in that state before. While this may be a relief, many students continue to stress and worry, especially if they have siblings.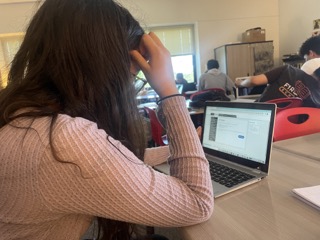 Having a parent in the military and trying to go to college does have its logical and financial positive outcomes, such as the GI Bill. The GI Bill is where active duty or veteran parents get money specifically for college and can use it for themselves or their spouses and children. When you have many siblings and the GI Bill is split equally between them all, the stress levels of each student increase as they reach their senior year and begin to apply.
     "I have four siblings," senior Brynna Grady states. "That means my dad's GI Bill is split equally between all four of us, plus my mom gets a cut just in case. I'm stressing out about how I will pay for college. I've seen what student loan debt can do to a person."
     Another problem many military children face is whether or not they want to stay close to their families. After moving with them for their entire life, their bond with their parents and siblings in most cases is inviolable. 
     "When I turn 18 my siblings will all still be really young. I don't want to move away and risk us having a falling out and end up hating each other," Grady says.
     Moving away from home and your family is extremely stressful no matter who you are or what your circumstances are.
    Luckily Canyon Hill High School has many resources to help you through this process such as your class counselor, the school psychologist, and the Military and Family Life Counselor, located in the Wellness Center in the 200 building who is there for support, advice, and can provide you with a safe place to just talk through your problems.
     Ms. Audrey Anderson-Teshima welcomes all military students into her office and is willing to listen and provide her two cents in order to help ease your worries and prepare you for your future.
Leave a Comment
Donate to Canyon Hills Chronicle
Your donation will support the student journalists of Canyon Hills High School. Your contribution will allow us to purchase equipment and cover our annual website hosting costs.