Indigenous Peoples Day, Homecoming, Students in the Community!
Hello Rattler Nation!
We were very busy this week as we headed into Homecoming tonight and tomorrow.
We had Middle School Sports Night at the game last Friday, and it was a packed house. Amazing to see all the MS kids out there so excited! Great way to start our weekend. It was also "wear pink" at the game for breast cancer. This week for Homecoming, it's NEON! We hope to see you there, and details are below. Progress Report 1 has ended and grades will post next week. Reminder: This upcoming Friday, October 21st, 2022, is a minimal day, with dismissal at 1:30 PM! and CA Shakeout is October, 20th, 2022.
Rattlers Doing Great Things!
Last weekend there was a college fair for first Generation students interested in college. Yahir Salas and William Nguyen were pivotal in making this happen for students all over the district!. Over 350 students attended from all the schools in San Diego Unified.
22 colleges from around the country

the Mayor

the recruiting team from Apple and more!

John Snedden helped support them
ROTC
We were busy in the community with ROTC at Oktoberfest. They were supporting the community by serving food and doing other tasks. If you have any ideas for them and how they can give back, please let us know!
Indigenous People's Day: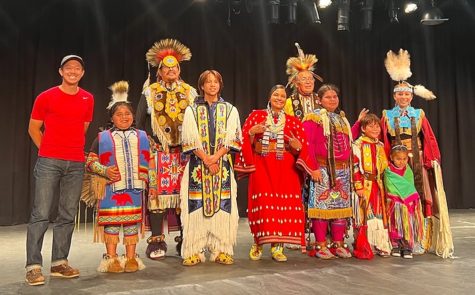 We started on Monday with Indigenous Peoples Day, and we had the tribal communities come and do a land acknowledgment, speak and perform for classes that volunteered. We were featured in the Union-Tribune and KPBS. The picture is above. The students had a ton of positive feedback on it, and we look forward to more partnerships.
CHHS vs. Mission Bay at CHHS: HOMECOMING!
DANCE: 7 PM -10 PM! STUDENTS CAN NOT LEAVE ONCE THEY ENTER UNTIL THE END OF THE DANCE
Saturday School
Many students needed it and were disappointed when they could not buy a dance ticket. For all dances, you need a 2.0 in academics, citizenship, and clear attendance and tardies. Saturday School is how you make up work and clear those tardies! Click here to sign up and learn more!
Drop-Off and Pick-up: We need your help!
We are having issues with Drop Off and Pick-up. Parents stop right in front of the cones in the front of the school, and that then causes a traffic jam in the intersection. All Drop-Off and Pick-Up are either in the student lot to the south OR in front of the 1000 building. Please, if you are pulling into the school in front, you drive down the road in front of the 1000 Building and not stop in front of the school. Also, you can drive down and turn around in the parking lot and drive back down the road if you need to go North.
Yesterday and the day before, I have been out there asking parents to move up and met with combative parents. Your students walk to and from class all day. They can walk in front of the 1000 building to be picked up. It's right to the left of the office.
Thank you for your help.
Federal Survey Cards
PARENTS, PLEASE FILL THESE OUT! THE MOST IMPORTANT TASKS OF THE YEAR ARE BELOW!!!! PLEASE HELP US. LAST YEAR WE LOST 100K DUE TO A LACK OF PARTICIPATION.
FEDERAL IMPACT AID SURVEY FOR FY 2022/2023 (REVISED)
Due to printing delays, Federal Impact Aid forms will be mailed directly to families on or before October 19, 2022.

These cards are essential to all the schools in the cluster as it directly ties to funding for your child and all other students who attend the school.
LCFF: Local Control Funding Formula: Please fill out in the Parent Portal:
We are now doing an Athletic Weekly; this is created with the most accurate data we have at the time, and we understand things change last minute, so always check MaxPreps as well.
9th Grade Academy!
Welcome to CHHS! Ms. Elizabeth Ward, Vice Principal, Class of 2025, and the CHHS Admin team and Staff invite you to check out the 9th grade newsletter.  
Counselors are here to help you! Your students ask to see their counselor by going to the CHHS website and clicking on the "Counseling Tab"-then, they click on their counselor to fill out the form. Counselors will then call them to the office.
AP EXAMS: NOVEMBER 1 is the deadline to buy Ap Exams.
The AP Exam payment site has been updated for 2023 at http://aptsusa.com/canyonhills Payments will open on Sept 12.
(Please also note the steps to apply for a fee reduction this year in your district): How to Request Reduced Exam Fees AP will allow reduced exam fees for specific qualifications – full details HERE Reduced exam fees must be determined yearly, and no one is automatically qualified. To qualify for reduced exam fees, families must complete the LCFF form. * LCFF means Local Control Funding Formula, and completing this short form determines to fund for schools and eligibility for other supports like reduced exam fees. More details can be found HERE * The LCFF form is in the Parent PowerSchool Portal HERE * This is an instruction document to help complete the form HERE * If you don't know how to access your PowerSchool Parent Portal, please contact your school's site tech or front office manager to get access. APTS 1-855-663-8348 ext. 700 http://aptsusa.com
Booster Clubs are created by each "Class Of" to raise funds to create unforgettable experiences for your students. Items include caps for graduation, prom ticket prices lowered, organizing Grad Night, and having fundraisers to pull this off. They work very hard and need your support. Please go to your student's "Class Of" website and join the registry to stay up to date on all things going on with your student's graduating class. Learn more about joining the booster club here.
Dr. Erica Renfree