The Great Resignation – How Does It Affect Gen Z?
Over the last two years, the American labor market has been rocked by great tides of inflation and wages stagnating. Many Americans either lost their jobs- or chose to quit. 
Many workers, usually from jobs in food service, have been growing unsatisfied with their jobs at a growing rate. The decline of work-life balance and quality of life has caused many laborers to seek better working conditions elsewhere.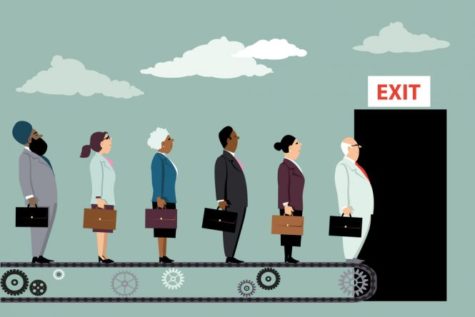 Now, how does this affect us? Many students, especially juniors and seniors, do have a job. Many are beginning to learn they can make the swath of jobs out there work for them as young professionals. 
In turn, many of them see more pay in their job fields. According to Bank of America, data has shown that Gen Z customers who have changed their jobs spiked to 29.5%. 
Pay raises for them have spiked to nearly 30% because of these job changes. Young professionals are thinking more critically about how a job fits them and what types of benefits they will receive. 
For businesses, how can they attract more professionals into their offices? The labor market is still strong, making it harder for employee retention. 
It's clear that many should recognize that Gen Z is leading a charge towards fixing major social issues, one of them being toxic work environments. These businesses must recognize that they are the future of leadership, and the future world for economics. 
Teenagers who are working or considering working should be able to work in establishments where they can have a sense of trust, and where the owners or managers are acting ethically and morally. 
A common argument against reformation in labor is that most unskilled workers and/or Gen Z are just lazy or want easy money. A survey conducted by zhaopin.com showed that young people are more satisfied with their jobs when they feel they have a sense of accomplishment rather than money or material items.
Granted that the world is changing and we need to keep up with the times, employers cannot expect Gen Z to just blindly accept low wages in exchange for under-stimulating work.  Steve Shepherd, CEO of career guidance firm TwoPointZero, said it's more complicated than that. 
Young people prefer to be ethical leaders in the industry; as such they believe employees should benefit just as much as employers. 
It is essential to note that the younger generation is getting tired of the old "work to live" mindset; they want to find a balance between their career and their personal life. Modern businesses must be aware of this and begin to even at least, slowly move with the times.
Leave a Comment
Donate to Canyon Hills Chronicle
Your donation will support the student journalists of Canyon Hills High School. Your contribution will allow us to purchase equipment and cover our annual website hosting costs.