When Taylor Swift announced her tour comeback, named "The Eras Tour," the world figuratively exploded as people fought to get tickets and for her to play in their country. Unfortunately, the disaster of Ticketmaster made it extremely difficult for many people to get tickets.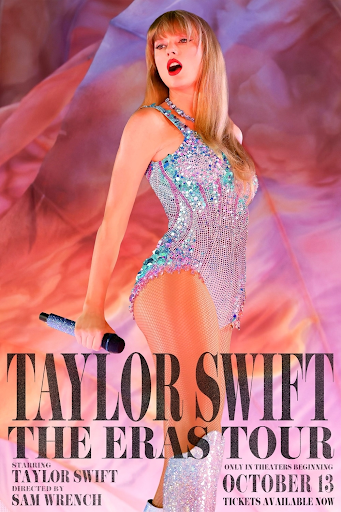 Luckily, to help make up for people who were unable to go, Swift released a concert film of her performance for the tour, recorded during three of her dates in Los Angeles. I went with my best friend to see the movie, and it was an amazing experience.
While I was not able to get my hands on it, many theaters and showings had exclusive "The Eras Tour" popcorn buckets and friendship bracelets, which was super cool! I am jealous of everyone who got to get a nice souvenir. 
The quality of the movie was amazing! The editing was not too wonky or motion-sickness inducing, unlike some of her past tour movies. The shots were never too close or too far to be uncomfortable or to not be able to see much of the stage. What I especially liked was how the cinematographers incorporated many shots of both Swift and the dancers! When I went to the physical concert, it was quite hard to see everything, but the movie helped fix that. Seeing everything without having to pay nearly as much for tickets was definitely a nice opportunity.
I also liked the sound quality of the movie. Going from barely being able to hear Swift at her own concert because of screaming fans to hearing almost HD recordings of her performances was a roller coaster, but a very enjoyable one, especially with the release of the live performance of "Cruel Summer" onto streaming platforms! The backing tracks of some eras, like 1989, did replace a lot of the live music, but it didn't matter, especially since Swift performed with backing tracks during every era.
Overall, the concert film was a 10/10 for me, and I highly recommend it, especially if you were one of the many unlucky fans who couldn't secure tickets to the live shows.