Deion Sanders, arguably the best corner of all time in the NFL, secures a partnership with a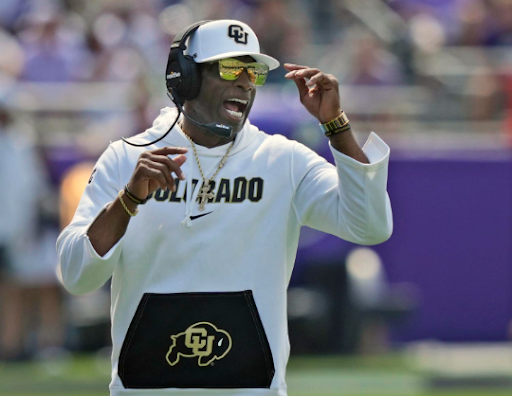 local San Diego sunglasses company Blenders, after the CSU call-out.
Coach Prime is the new Head Coach at Colorado University, his team started off the season very strong by beating number 19 ranked TCU, then the following week he put a beatdown on Nebraska 36-14, after that win, everything unfolded between Deion Sanders and Colorado State's Head Coach Jay Norvell.
"When I talk to grown-ups, I take off my hat and glasses.' That's what my mother taught me."
That's what Norvell said to start this battle, it was indirectly directed at Sanders. From there, the Blenders partnership was formed and the CSU and Colorado war started..
After the win against Colorado State on September 16th, Sanders partnered with Blenders, and since that partnership was announced Blenders' sales have increased 1000% over a 24-hour period. Blenders made $1.2 million in one day just from his "PRIME 21" collection. The glasses haven't been shipped yet but these are the most popular glasses on the market right now.
Blenders are very popular here in San Diego as it is a San Diego based company. They are Oakley quality for a fraction of the cost. Not only are they great quality but they also have everyday, active, cycling, volleyball, and blue light styles. With all of those styles there are many different variations in colors, shapes and fits. 
Now you may be wondering, why did Deion Sanders partner with a San Diego company if he coaches in Colorado? The answer is that Blenders is the preferred sunglass company at University of Colorado. Now with this partnership, CU is almost guaranteed to have every student on campus owning a pair of Blenders. 
These exclusive "PRIME 21" glasses are expected to ship in December for out-of-state customers but if in San Diego you can get them in November. This is just the beginning of big name partnerships with Blenders, after Coach Prime's partnership, there are many more partnerships to come and Blenders, well they will be a top sunglass company.