As one of the most popular country artists out right now, Morgan Wallen's 3rd studio album "One Thing At A Time" has maintained a top Billboard Chart spot for 29 straight weeks since its release on March 3rd, 2023.
Wallen's most popular album of all time "One Thing At A Time" was released back in March of 2023, since the release, it has been a hit. By far my favorite Morgan Wallen album out, it has such a good flow of upbeat songs, but also is able to tone it down to talk more seriously about certain things that he has experienced in his life. 
The song "Thinkin' Bout Me" is at the top of my list, it's Wallen's number one song on my rankings and this is solely because he talks about real life experiences with love. Everyone thinks that celebrity love is perfect, but Wallen is able to show that the stereotype isn't always like that. This song is truly a work of art that talks about your classic love story. After the breakup, the girl is driving around and sees all the places and things that remind her of Wallen, he then feels bad for the new guy because only Wallen knows what she was like and this new guy will have to experience this new girl. 
Another hit on the album is the song the album is named after "One Thing At A Time ". This song is one of Wallen's most popular songs with over 175 million plays and that is just on Spotify alone. He is able to go from a very heartfelt song within "Man Made A Bar " to an upbeat song almost everyone can bang their head to. Throughout the song, Wallen talks about he is only quitting one thing at a time whether it is by forgetting the bar where he met this girl who broke his heart or he can take her number out of his phone. This song is at number 4 on my list as it is very upbeat and just an overall very well-written song.
Through the album, Wallen talks about his faith, he has some songs with other God-loving artists such as HARDY, Eric Church, and even a song with ERNEST, his songwriter, in which they muse on the Bible's Genesis story.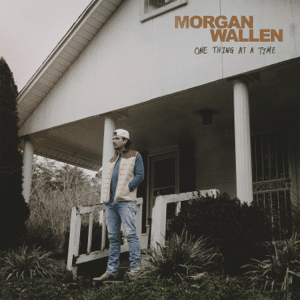 God made the world in seven short days
He said it was good, I bet it was great
And God made a man, the man got lonely
He said, "Please, Lord, if I could only have an angel to hold in my arms"
So God made a girl, his best work of art
Oh, but he didn't make no place to go when she breaks your heart
So man madе a bar
Wallen was able to turn this song into a hit, this one is also one of my favorites on the album as I am a God loving American who knows God has a plan for all of us. This song is ranked 5th on my list. 
Overall, I give this album a 9/10. I think the idea and technique of storytelling songs, and also a mix of songs everyone can relate to. He compares a past experience with love to the 1998 Atlanta Braves team. That Braves team had a great run in 1998 and was so close to making it to the World Series, unfortunately they lost to the Padres in the NLCS. Wallen is comparing that to love in the idea that he was in a relationship that had a good run but it didn't end up with anything. 
I would recommend this album to anyone, even if you aren't a huge fan of country music, Wallen does a good job of not having an album full of just country songs, the song "180 (Lifestyle)" isn't so much country, it has some hip-hop beats in there which makes it not just a solely country music album. Also every song Wallen has with HARDY, is very R&B or hip hop, and that also ties into the not solely country music album.
The only negative that I have about this album is that Wallen added songs he had previously released such as "Thought You Should Know" and also "Last Night" and added them to the album. If he hadn't added those songs to the album it would have been a 10/10, this is only because he added songs that were already super popular, and put them in the album. When an artist releases a new album I want brand new music, if there is only one or two songs that were previously released then that's okay but upwards of 6 songs is too many.
"One Thing At A Time" is Wallen's best studio album yet and I know his fan's can't wait to see what is next to come after how big this album was and still is to this day.