Since February 12th, 2023, there has been no football, Patrick Mahomes and his Kansas City Chiefs won the Super Bowl, and well after that all football fans had to wait until early August for preseason to start up.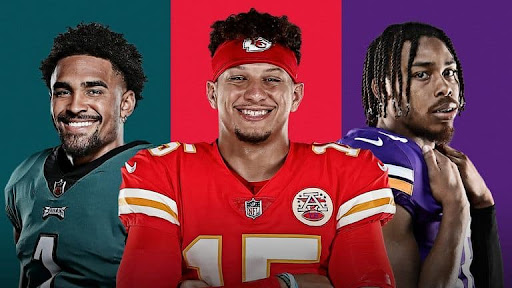 Over the 2022-2023 offseason lots of things happened. This year's draft was full of incredible college athletes such as Bryce Young who went Number 1 overall to the Carolina Panthers, CJ Stroud who went 2nd overall to the Houston Texans, and many more who are sure to make an impact this season. On top of this year's draft class, there were some blockbuster trades that happened such as Aaron Rodgers getting traded from the Green Bay Packers to the New York Jets, and star Cornerback Jalen Ramsey getting traded from the LA Rams to the Miami Dolphins.
Not only have most people created their fantasy football teams, but most people have just been waiting to watch football again. The season kicked off on Thursday September 7th, 2023 with the Detroit Lions playing the Super Bowl Champion Kansas City Chiefs. The 2023 Super Bowl Champs were upset by Jared Goff and his Lions team with a final score of 21-20, but that is just the first of many upsets in week one.
The new Cleveland Browns upset Joe Burrow and his strong Bengals team, and Aaron Rodgers and his new Jets team upset Josh Allen and his Buffalo Bills team. After the Jets win, they learned the unfortunate news of new QB Aaron Rodgers tore his achilles on the fourth play of the season and was told he may not return until the start of the 2024 NFL season, he says otherwise. Rodgers, 40, claims that he will be able to return by the playoffs of this year.
After an on-field collapse due to cardiac arrest last season, Bills Safely Damar Hamlin is looking to make a comeback better than ever. He is in the best shape he has ever been in and every Bills fan is looking forward to seeing Hamlin back on the field after he collapsed on January 3rd while playing the Cincinnati Bengals. 
Dolphins QB Tua Tagovailoa is also looking forward to getting back on the field after he had two concussions that he played through which then caused the NFL to add more rules to the concussion protocol. After Tagovailoa was stretchered off the field week 4 against the Bengals, he was not fully cleared, then proceeded to play until week 16 against the Packers where he then was tackled and looked like he was paralyzed on the ground. Little did the Dolphins know that Tua was still not cleared and proceeded to not become cleared until January 31st, 2023.
Some massive contract extensions were also secured, the 49ers locked up 4 time Pro Bowler, 2019 Defensive Rookie of the Year, Defensive End Nick Bosa with signing him to a massive extension for 5 years, $170 Million contract. Bosa is one of the best Defensive Ends and defensive players in the NFL and has been for years. The Cincinnati Bengals also locked up 2019 Heisman winner Joe Burrow or "Joey B" for a 5 year/$275 million extension which now makes him the second highest paid player in the NFL behind two time MVP and two time Super Bowl Champ Patrick Mahomes as he restructured his contract.
All football fans have been waiting to say this but now they can…Football is back!