A blank wall was transformed into a mural at Canyon Hills High School. Students were curious about who designed it as well as what it represented. 
Former senior Bridget Blaine, a member of the Leader in Me program, proposed the mural idea.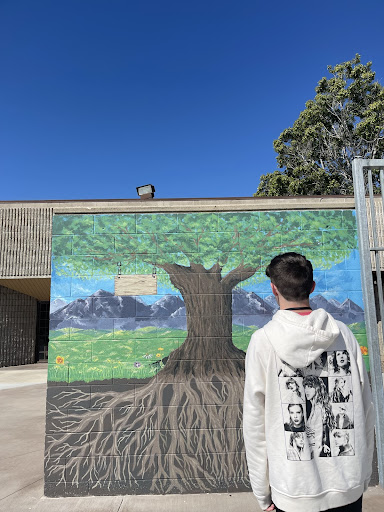 "The tree represents the seven habits of highly successful teens. Educator John Snedden says, "The roots and canopy are the same size on purpose.
 Showing that, in order to have something that is big and thriving that everybody can see, you need to have something big and thriving as a foundation to support everyone.
"They worked with the Franklin Covey company that does leadership and did a retreat", Mr. Snedden says, "on how we can make Canyon Hills more exclusive and make it more comfortable for everybody.
Former senior Nathan Matthews, as well as a group of seniors from the previous year's program, helped with collecting the paints and setting the background so they could all bring their idea to life.
"Based on what we are doing and what that mural is going to become, it is very encouraging ", Principal Dr. Erica Renfree says. "It shows how far we have come in eight years."
Dr. Renfree says that she is very proud of the students' work, and in the end, that mural will significantly impact the school's culture and climate.
"I like how the roots are very noticeable, and the mountains in the background are very detailed," senior Mayra Mejia says, "It's nice to see while walking to different classes; they should make more around the school."
Mayra values the mural depicting student growth. "It means being able to learn different things and find what's best for you," she explained.