"Prom Pact:" Disney's brand new rom-com, and a new fan favorite
 Rom-coms have been a popular genre of movies for decades now. With the newfound popularity of "old-school" movies such as "10 Things I Hate About You" and "She's All That," film studios have begun releasing new movies under this genre to attract a new age of rom-com fans. Disney+ released "Prom Pact" on March 31, and it is definitely one of my favorite romcoms I've ever watched.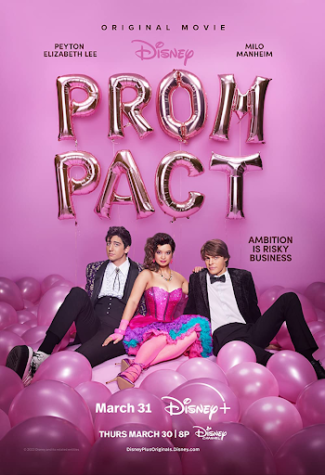 The movie is set during prom season and features many over-the-top 80s-themed "promposals" that make the main character, Mandy, played by Peyton Elizabeth Lee, cringe.
Mandy is an ambitious college-bound student (who doesn't believe in love) determined to go to her dream school Harvard and study under a feminist economist she looks up to. When she gets deferred, it feels like her world has fallen apart.
Her best friend Ben, played by Milo Manheim, comforts her and reminds her there is more to life than college, convincing her to go to prom with him (as friends). She agrees; however, she decides to try and get a letter of recommendation to get her off the waitlist.
Her plan? The father (a Senator and Harvard legacy) of the most popular boy in school, her least favorite person, Graham Lansing (played by Blake Draper). She decides to start tutoring him in AP Psychology to get closer to his dad, but along the way, she realizes there is more to Graham than his cockiness at school and more to life than Harvard. 
As Mandy and Graham spend more time together, they begin to gain feelings for each other. Mandy sees through the image that Graham puts up for the rest of the world.
They play basketball together, and he learns everything she teaches him regarding AP Psychology and everything she tells him about herself. He tells her about the strained relationship between him and his dad and how everyone has high expectations of him because he is the son of a Senator and a Harvard graduate. Mandy starts to neglect her friendship with Ben to spend more time with Graham, and in turn, Ben spends more time with his crush, popular girl LaToya Reynolds (played by Monique A. Green), who ends up reciprocating his feelings. 
Like most Disney movies, this movie is cheesily romantic and has lots of teenage angst. However, it surpassed my expectations, as it went beyond romance. One thing I really adored is how Mandy and Ben were nothing beyond platonic the whole movie. They spent all of their time together, but they were just friends the entire time, which is something you wouldn't expect to see in a Disney movie (Disney sure loves their love triangles). Their friendship was really nice to watch. 
Graham was very caring and not a jerk compared to stereotypical jocks in Disney movies. He really cared about Mandy and it was shown through every scene of theirs, from him listening to every word that came out of her mouth, to smiling in every scene and trying his best to make Mandy feel heard. They were a very adorable couple and way different from stereotypical "nerd x jock" romance movies. 
If you're looking for a new rom-com to watch, "Prom Pact" is a perfect option. Between the loveable characters and the nicely developed relationships, it has become a new fan favorite amongst the thriving rom-com community. 
Leave a Comment
Donate to Canyon Hills Chronicle
Your donation will support the student journalists of Canyon Hills High School. Your contribution will allow us to purchase equipment and cover our annual website hosting costs.
About the Contributor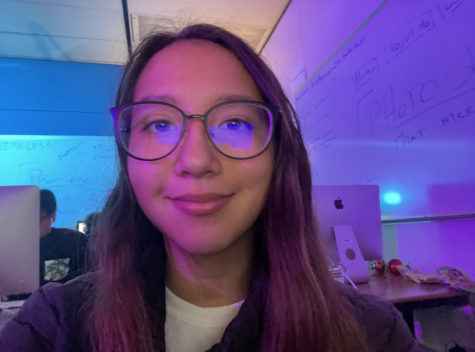 Jasmine Tran, Entertainment Editor
Jasmine Tran, the entertainment editor, is a junior at Canyon Hills High School. She loves writing, reading, filmmaking, and Taylor Swift. She is socially...