Theatre Department presents "Talk Radio" written by Eric Bogosian
As though radio is not as depended on for news sources as it once was, it holds its significance. We have seen the world grow and depend on what we see in the media today. Growing into the spread of misinformation and hostility, society has deemed it to be legitimate news.  With many more media platforms such as Instagram, Twitter, TikTok, and etc the world has not seemed to move towards enlightenment.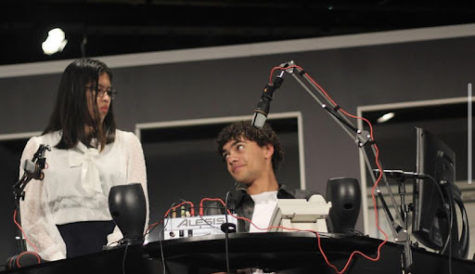 Expanding more on the prying of how news and media is spreaded today, Canyon Hills High School Theatre Department presents Talk Radio; written originally by Eric Bogosian and directed by K. Aaron Blokker.  This play demonstrates how guys like Nick Alcorn (Barry Champlain) make a personal living off of attacking "the other" under a 3 hour launching into the world of studio B station WTLK in Cleveland, Ohio.
The curtains open revealing to the audience of the truth that evolves from our characters behind the microphone of Talk Radio. This piece demonstrates both sides of the stripped truth being spoken and the side of the listeners who feed into the nonsense that deludes the world from reality.Talk Radio attends to others' free time; they have to judge the life of others through the voices that choose to project their lives and opinions.
 Nick Alcorn (Barry Champlain) executes his role as the Jewish Talk Radio host by portraying Champlain's patronized political views and his sharp sense of humor that his listeners either appreciate or disregard. His station has gained much exposure leading the show to hit ears nationwide. His incoming callers consist of drug addicts, LGBTQ+, African-Americans, and idealized white supremacists. Most of the calls received and broadcast can be hostile or the shared appreciation of Champlain's honesty and ways of communication.
After the plenty of incoming calls it is soon realized that Champlain is more concerned with the personal gain from his production than the ill reality of the information that is shared to him. But no matter the publicity or callers received at the end of the day, the truth lies within Champlain's hatred for himself.  Yes, an intelligent and humorous man he covers his own loathing with the "others" ill will perhaps to come to accept that this is how the world is open to news now.  
"A picture-perfect demonstration of how we the people are so inclined and dependent on the problems the world is faced with today." Junior at Canyon Hills High School, Caitlyn West, claims. 
 "We can all see ourselves in Barry's shoes since we all have forbidden hatred we don't like to face so we reflect off of what others project into the world." Sophomore, Lucas Wilson outputs after being asked what he found relatable to the production.
Leave a Comment
Donate to Canyon Hills Chronicle
Your donation will support the student journalists of Canyon Hills High School. Your contribution will allow us to purchase equipment and cover our annual website hosting costs.