"Wednesday", Netflix's New Flop or Money Maker?
WARNING: SPOILERS AHEAD
The new Netflix series "Wednesday" is becoming one of the most watched and talked about shows and it deserves the attention it is getting. 
Wednesday Addams, the beloved daughter of the Addams family, although similar to in the movies, is creepier than before. She is older now and attends "Nevermore Academy" which is set in a small town in Vermont. 
Just like Wednesday, "Nevermore Academy", a school full of outcasts, is dark and although it appears to be harmless Principal Weems's determination to keep the school's name in good standing could possibly harm students and in the last episode leads to her death.
The most extensive cover-up by Principal Weems and possibly one of the most harmful one was covering up the murder of Rowan after he tried attacking and killing Wednesday in the woods. 
Principal Weems shape-shifted into Rowan to act as him after it was announced that he was expelled and would be leaving Nevermore, never to return. This caused Wednesday to seem crazy and an unreliable source of information. 
Rowan's murder was also the creation of the plot and became the mystery Wednesday was determined to solve. While Rowan attempted to kill Wednesday he revealed that his mother had drawn a picture of Wednesday before she died, thirty years ago.
Sadly, Rowan only saw half of the picture which consisted of Wednesday standing with flames around her as Nevermore Academy burned. Without seeing the second half of the picture Rowan took this as her being the downfall of Nevermore Academy when that is far from the truth, she saved the school and all the outcasts. 
The suspense and mystery Tim Burton created from that scene just built on top of each other amazingly well throughout the rest of the series. What's even more incredible is that he was able to keep the suspense up throughout all eight episodes. While watching the series it felt like I was in the story viewing it firsthand.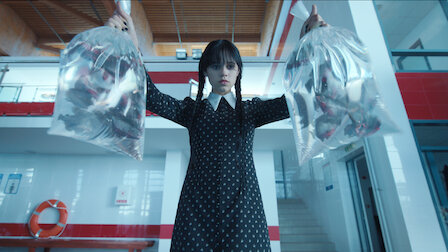 Although there was a lot of suspense and mystery throughout the show, one big plot twist changed everything around at the end. Tim Burton did a fantastic job bringing them all together to tie into each other in a clear manner.  
Tyler Galpin being her so-called "lover/crush" ends up being the Hyde who was in charge of killing her, but was being controlled by the only normal person at Nevermore and her so-called dorm mother Marilyn Thornhill who is also a descendant of Joseph Crackstone who tried killing all the outcast and Wednesday's relative Goody Addams who then killed Crackstone and put a curse on him. 
Not only was Thornhill a descendant of Crackstone, but she was really Laurel Gates who was the sister of Garret Gates. He was killed by nightshade poisoning while he tried killing Wednesday Addams's father and mother in high school because he was madly in love with Wednesday's mother Morticia Addams. Laurel Gates was also supposed to be dead just like the rest of her family but came back under the disguise of being Mairlyn Thornhill to get revenge for her family. 
Even though that was a GIGANTIC plot twist the best scene was in the jail, after Wednesday suspected Tyler Gaplin of being the hyde and torturing him to reveal his true identity. When Tyler walked up and asked her how it felt to lose it drove me crazy. 
Tim Burton's ability to tie all of this together into eight episodes and leave viewers wanting more is impressive. What's described is only a summary of this amazing plot. There are not many complaints about the series except that hyde could look more realistic and scary because it did seem funny looking and fake. 
Other than that the series receives five stars from this viewer and a recommendation for all those with Netflix to watch. 
Leave a Comment
Donate to Canyon Hills Chronicle
Your donation will support the student journalists of Canyon Hills High School. Your contribution will allow us to purchase equipment and cover our annual website hosting costs.
About the Contributor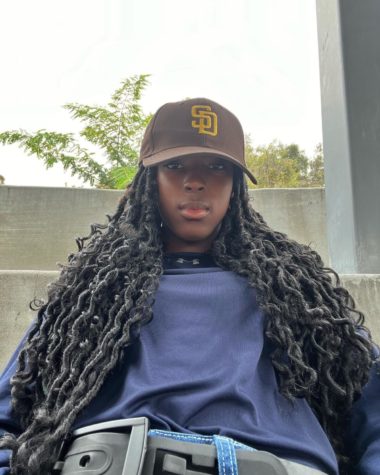 Ayla Jones, Social Media Manager
Ayla Jones is a current junior at Canyon Hills High School who enjoys interviewing, researching and writing stories for Canyon Hills Chronicle. Jones became...