"We weren't the biggest team, but others viewed us as a threat": Girls volleyball completes the farthest CIF run in years
The Canyon Hills girls volleyball team made a groundbreaking run in the CIF championship, nearly advancing to the semi-finals. After finishing second in the league, the varsity ladies were tasked with playing the toughest teams in Southern California.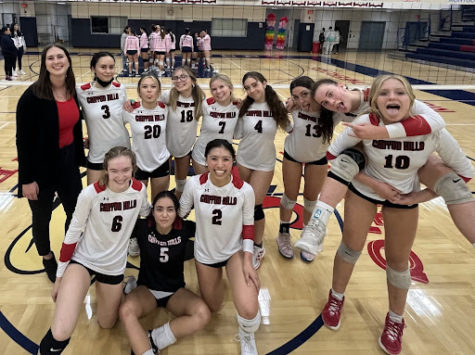 In the first round, the varsity team matched up against Montgomery High School. From the very beginning, the motivated Canyon Hills team dominated the game. Despite several missed calls and a rowdy crowd, the Rattlers won all three sets. 
"The cheerleaders from our school came and started cheering for us. It instantly gave our team a confidence boost," recalled DS Haley Harville. 
Outside hitter Mia Webster played a crucial role in the victory last Tuesday. In all three sets combined, the talented sophomore grabbed seven kills, enabling the team to win 3-0.
"It wasn't my best performance, but I'm glad that I could help the team win such an important game. The way we played in the third set made the difference, in my opinion," stated Webster.
"It felt rewarding because we really needed to win the game to keep playing in the competition. The atmosphere was amazing. Everyone was cheering, laughing and having the cheerleaders there made it even better," she added.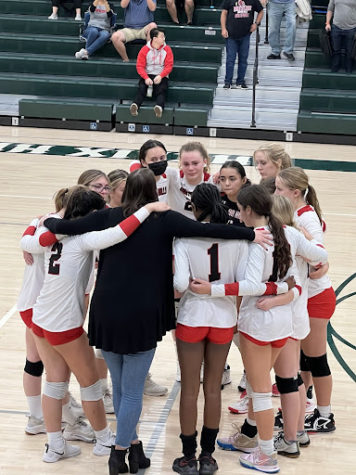 Following the 3-0 victory against the Vikings, the Rattlers prepared to play the formidable Helix Highlanders away in La Mesa. Coming into the game as underdogs, the girls displayed strength in a good defense drill. However, their 6 v. 6 scrimmage became unorganized and messy. 
"Although our warm-up drills were sloppy, we all ignored it and agreed to play our best," claimed setter Amanda Halac. 
The game seemed to be going in the right direction, as the Canyon Hills team scored the first few points in the matchup. After some time, however, Helix upped the intensity, finishing the first set with a 14 point lead.
"The first set really destroyed our confidence. Our mentality dropped and no one was motivated on the court. Their one outside also kept hitting unstoppable down balls which made it a whole lot harder to win," Halac remarked. 
The varsity team ultimately lost all three sets, (3-0), eliminating them from the second round of CIF. As this was the last time any of them would play on the court again, it was an emotional scene. As the winning team rejoiced, our ladies huddled together to reflect on the For many players, it would be the last time they would step on the court. 
Despite the upsetting loss, players like Halac were glad to have advanced so far in the prestigious tournament. 
The senior captain had this to say about the impressive season: "Playing against Helix, we came in knowing that we were at a disadvantage but we knew that we could potentially beat them. Coming in as the lower seed, everyone was a bit nervous as it could have, and ended up to be the last game of the season. During the game, we had to persevere and find ways to score against their weaker hitters, especially in the third set."
"Overall, our team worked so hard this season and it really showed how we played together and for each other. We weren't the biggest team, but other teams viewed us as a threat because of our strong performances. This is the farthest run our team has had in CIF, and it was an honor to have the support from others at the school."
Leave a Comment