Lady Rattlers looking to reflect after Division III CIF loss
After a devastating 6-3 loss against Sage Creek last week, the Lady Rattlers are looking to reflect on their successful season.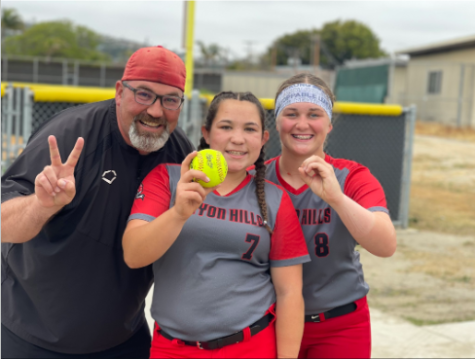 After finishing the season 16-10-1 the Lady Rattlers softball team had a much better season than last year. Over the next couple of weeks the Rattlers will attend their banquet to see who will win MVP, Defensive Player of the Year, Offensive Player of the Year, and also who made one of the three All-League teams.
Sophomore Natalye DeBus finished the season leading the team at a .365 batting average, .455 on base percentage, and established her role as the ace with getting her 200th strikeout on the season in a 6-5 win against Mission Bay. The AMSD Gold AJ/Stef pitcher is making a case for all college coaches to watch her this summer with these stats and also posting up a sub 1.56 ERA. On top of all of those accomplishments, she is also tied with Junior UCSD commit Callie Christian from Mira Mesa in strikeouts, which is astonishing, and she has a 423 career strikeouts in only two years of being a part of this Lady Rattler squad, she also beat her own single season strikeout record this year by one, finishing with a whopping 212 strikeouts in her sophomore season.
Her battery mate, sophomore Hal'e Martin led the team with a perfect fielding percentage of 1.000. On top of that, the AMSD Gold AJ/Stef catcher is 42nd in the state for fielding percentage, 4th in the state, 2nd in the state amongst sophomores and 9th in the country amongst all sophomores. A perfect fielding percentage is very difficult to maintain but Martin is able to do her job behind the plate and still maintain the perfect fielding percentage. 
After a tough season with some big wins over some really good division 3 schools such as West Hills and Point Loma, and some losses to open division and division two schools such as Mira Mesa and Steele Canyon, this team is made for anything. They are bound to bounce back for this primarily now senior team's last season as Rattlers next year.
Let's Go Rattlers! Fear the Venom!
Leave a Comment