World Baseball Classic is back and better than even
"Turner to left field, and deep, Peralta back, and it is gone!! USA WHAT A SWING, WHAT A MOMENT FOR TURNER, WHAT A TURN OF EVENTS! The biggest moment of Turner's career!"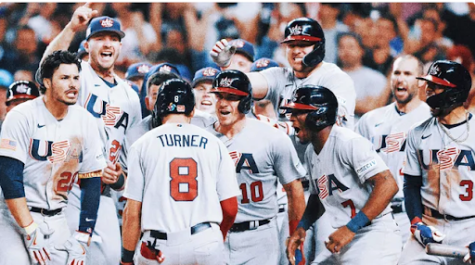 Adrian Garcia-Marquez screamed as Trea Turner rounded the bases after hitting a go-ahead grand slam to help propel Team USA over Venezuela. After Turner signed his contract with the Phillies this offseason for 11 years and $300 million dollars, all Phillies fans have to be happy with the performance Turner has put on so far in the World Baseball Classic.
The World Baseball Classic is back and better than ever with some of the biggest stars on teams and some incredible stories. Team USA is filled with so many stars and with everyone on the roster, combined there is 19 All-Stars, 11 Silver Sluggers, 7 World Series Champs, 4 Gold Glovers, 4 MVPs, 4 Batting Title Champs, 3 Rookie of the Year winners, and 1 Cy Young award winner all on one team! If you were to ask any MLB analyst if this was the best team in WBC Team USA history they would most likely tell you: yes.
One of the biggest stories being the Czech Republic, they don't have a national team so they held tryouts and their team is filled with players whose everyday jobs are ranging from plumbers to neurologists. 
This team is the Cinderella story of the WBC. They didn't make it far but starting pitcher Ondřej Satoria struck out Shohei Ohtani who won Rookie of the Year in 2018, American League MVP in 2021, and Silver Slugger in 2021. Ohtani is known as one the best players in all of baseball being one of the first players in MLB history to hit and pitch and also win awards as a pitcher and hitter.
The Dominican Republic team was the favorite to win the WBC with the players they had on the team. Padres Manny Machado and Juan Soto, along with 2022 American League Rookie of the Year Julio Rodriguez, 2022 Cy Young Award winner Sandy Alcantara, and Red Sox star 3rd baseman Rafael Devers. 
Unfortunately, they got knocked out of the tournament after a loss to Puerto Rico. After Puerto Rico beat the DR, they celebrated a little too hard and Mets closer Edwin Diaz tire is patellar tendon in his right knee and put him out for the entire 2023 season which is unfortunate for the Mets especially because they were looking to win a World Series this year after signing some big names this offseason.