CHHS Softball on cruise control through first 4 games of the year
After a slow start due to rain and games being pushed back, Canyon Hills' Varsity Softball team has had a strong start by having a 3-1 record.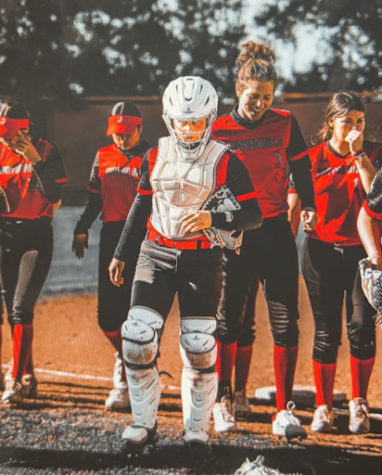 Canyon Hills' softball team is 3-1 through the beginning of the season with the next two weeks of games really a test of what this team is made of. In the week of 3/6, this team goes to play Coronado at Coronado High School and then comes back home to play 3 straight home games against West Hills, Sweetwater, and La Jolla Country Day. 
Then the following week, they will play two away games against Steele Canyon and Point Loma and two home games against Holtville and Calexico. 
"I am very excited to play Point Loma again this year." said Junior Lynnette Demumbra. "Every year since my freshman year we haven't been able to beat them. But this year is different. Our team this year is better than last year with us all having a year to become better athletes, get stronger, better, and increase our Softball IQ."
This year's team is built better than ever with a combined slash line is .311/.433/.432 which are some incredible stats given that some players who last year hit above .300 have had a slow start. 
Sophomore Natalye DeBus is leading the team in ERA at 2.23 and is looking to break her previous strikeout record from freshman year of 211 strikeouts. The Athletics Mercado SD 16u Gold pitcher is on track with 50 strikeouts in 3 weeks of playing. DeBus is also 18th in the state of California in ERA and is leading the team in batting average, slugging percentage, and on base plus slugging percentage.
The varsity softball team hopes to continue their dominant run this season and is encouraging CHHS students to come out and support them at their home games.
Leave a Comment