Locally owned pizzeria ,The Pizza Standard, opens its doors in Tierrasanta
Locally owned Pizzeria ,The Pizza Standard, recently opened its doors in Tierrasanta on Clairemont Mesa Blvd. The pizza shop is open Wednesday to Sunday  from 4 pm – 9 pm.
The owner explained the reason for opening the pizza place is he say an opening in the neighborhood.
"He just wanted to open a quaint pizza joint for the kids and adults alike to enjoy ," Owner Traveon L said.
Their mission statement is to bring the best pizza they can.
" Trust me, it's not easy. We have limited hours because we need to stay sane but I promise if you're craving pizza on a Tuesday it'll taste even better on a Thursday," L said.
L added that the reason he wanted to make his pizza place is because "We were home sick but one simple Google search is what led us here. It's hard to find good pizza but when we realized Tierrasanta didn't have a single pizzeria our hands were tied. If going from none to number one doesn't excite you then nothing will,".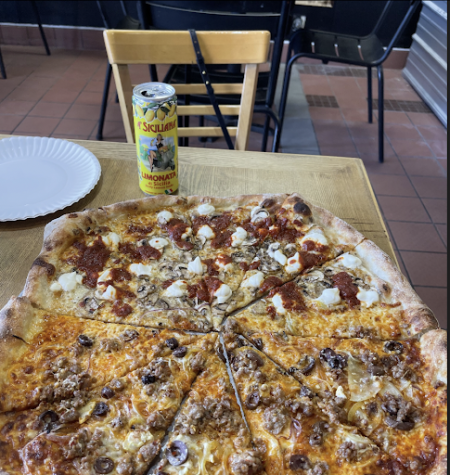 When is comes to making pizza, they go all out spending time on both dough making and developing quality toppings. 
"To make their pizza they start with the dough which we ferment for a delicious yeasty flavor. Next comes our sauce which is cooked from the thickest whole peeled tomatoes and then perfectly spiced and seasoned. All cheeses are grated in house and all our veggies are sliced daily to ensure the freshest products with no extra additives. Our pepperoni is the most sought after on the market and we cook our sausage to order so you aren't chewing rubbery meats. We've taste tested every one of our ingredients to find the best of the best. We keep our ovens hot and have the burns to prove it". 
The location sells by the slice or whole pie. All their slices are really good, but don't miss ¨The Marg¨, short for Margherita. It's a special variety of pizza they make. The traditional toppings on a Margherita pizza are fresh basil, fresh tomatoes, olive oil, sea salt, garlic, and mozzarella. Typically, the tomatoes are sliced and scattered across the dough before finely chopped garlic and basil are sprinkled on, followed by rounds of thinly sliced cheese.
My friends and I frequently visit it after school. It's perfect because they open at 4pm so it's right around when we get there. If you ever get a chance to either order or stop by I wholeheartedly recommend it.
View Comments (1)