FIFA World Cup captivates Canyon Hills
After four years of eager wait, the 2022 FIFA World Cup has officially started! The largest sporting event watched by 3 billion people returns to bring the action, suspense, and captivating beauty to the capital city of Qatar. 
Over one million fans have flooded to Doha to watch the best international teams compete in the tournament. Even Americans have come to show their support, with 100,000 fans being hosted. 
Typically, games are held during the summer so the players have adequate time to prepare. However, Qatar's scorching climate has postponed the tournament to be held in the final two months of the year. This means that most matches will take place during the school year, leading many to watch them in class.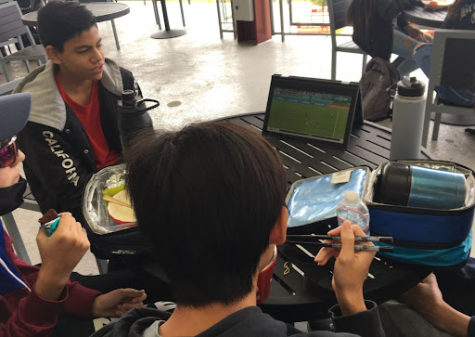 Canyon Hills is no exception; the excitement has found its way to the school. Over the month, dozens of students have tuned in to watch the thrilling group stage matches. Most notably, the United States won 1-0 over Iran last Tuesday.
 "I'm the biggest fan of soccer, but I could not miss the World Cup. The US national team qualified for the first time in eight years, and I'm excited to see how well they will do," stated Damian Sanchez. The freshman soccer enthusiast uses his laptop to watch matches during lunch and welcomes anyone interested.
"The game against Iran was my absolute favorite. The fixture would decide whether our team would enter the knockout stages; I could not miss it. That's why I showed it at lunch" he added.
Benjamin Parker is an avid player and fan who has been looking forward to the tournament for months. "I wish that it was held during summer, so I could have free time to watch it. Yet, I'm lucky to have teachers who suspend class to display matches on the board. It's a cool way to incorporate soccer into school," said Parker.
Teachers on campus have mixed opinions about the World Cup. While most claim it is a distraction and is against showing it, others are more lenient.
"A lot of my colleagues refuse to show the World Cup, but I like to consider my students' feelings. They have been so eager to watch soccer, and I feel it is a reward for their hard work this semester. That's why I show it at lunch," claimed Rodriguez.
Despite the World Cup's controversies, there is no doubt that it has a tremendous influence on the students and staff at Canyon Hills. And the excitement will only continue as the tournament comes closer to an end.
Leave a Comment