Production for theater's 'Talk Radio' has started, selected cast attend after school rehearsals
'Talk Radio' cast list was posted a week before thanksgiving, and work has begun with rehearsals.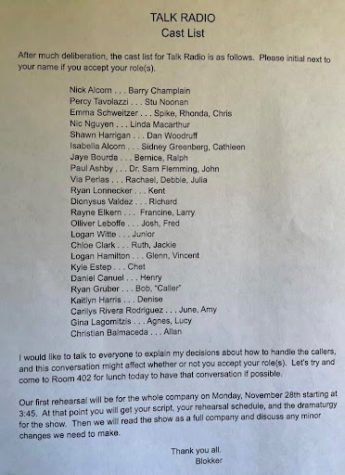 "The show was casted," Theater teacher Aaron Blokker states, "[Rehearsals] have been productive, I mean they are slow, we have been doing 15 pages a day."
In these rehearsals, they have been doing 'book work', where they slowly go through their lines. While they do this for practice, it also helps build character.
As mentioned in a previous article, the main character is a man named Barry Champlin, and the person playing his role is Senior theater student Nick Alcorn, who also played the father on one of last year's shows, "Next to Normal". In fact, there are two other characters who played in that show who returned for "Talk Radio".
"Things are going pretty well," Alcorn describes, "We're getting to know each other, the cast is pretty large, including the callers"
In this play, there are not only characters who will be on stage, but those will not even have to step foot on stage, instead having their parts played from a  recording. These are the 'callers' Alcorn is talking about.
"I feel like it's a good thing for new actors," Senior theater student Stephanie Schafstall states, "Because they can work on their voice and pronunciation."
Schafstall believes the callers in this play will get a good learning experience, and a nice introduction to acting in general.
"I have almost finalized the plans [for tech theater]," Blokker affirms, "So we should start building very soon."
While the more advanced work requires being in the tech theater class, shows always need a backstage team, and for each play held in this school, students can offer a helping hand by volunteering in this group.
 Preparation for 'Talk Radio' has been in the works for a few weeks now, and there is no doubt the show will be breathtaking.
Leave a Comment
About the Contributor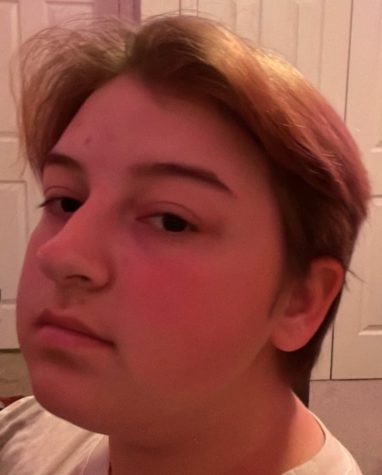 Sam Harris, Staff Writer
Freshman janky trombone player turned Junior digital artist and writer, Sam Harris is a man of many talents. Obsessed with many things such as Pokemon,...