Hurricane Nicole makes landfall in Florida causing severe damages.
Hurricane Nicole lands around 3:00 a.m. est November 10th Vero Beach, Florida, creating major flood damages as well as storm surge damage.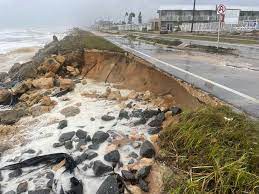 Nicole, causing  power outages to thousands, also affected areas of Florida that were still harshly impacted by Hurricane Ian (October 5th).  Maintaining 75 mph of wind with 981 mb of central pressure Nicole carried substantial rains to the central & Northern part of Florida. 
According to Steve Bowen, Nicole will be marked as Top 4 strongest U.S. landfalling storm on record.  
Major flooding and high water levels at 3.58 feet was recorded in Jacksonville, Florida. The flood levels of Nicole hit record beating 1928 Matthew Hurricane that brought water levels at 3.21 feet.  
Same Thursday morning major flooding appeared at Fernandina Beach, Florida, with the top 4th-highest ranking flood level.  Luckily, Nicole occurred during low tide other than high or else damages would have been heft
This year Florida has seen 3 hurricane landfalls along their coast.  Roadways that were damaged were reopened for communities to have access to as well as power restored to civilians less than two days after Nicole.
Leave a Comment