Thanksgiving: Best holiday
From the amazing turkey dinner to the cozy gathering of friends and family, it makes sense that Thanksgiving is so many people's favorite holiday. From spending time with family and friends to delicious feasts, there's so much to love about the holiday. 
Every family has their own unique traditions, but giving thanks while enjoying classic dishes like roast turkey and pumpkin pie are some of our favorites. 
No matter how you celebrate, Thanksgiving is the perfect way to kick off the holiday season. What could be better than an entire holiday that revolves around food? From turkey to pumpkin pie, there are so many festive dishes to choose from. Plus, 
Thanksgiving dinner usually falls somewhere in the middle of the day, so you don't even have to wait that long for all the amazing food. Thanksgiving dinner is amazing, of course, but leftovers may be even better. The combination of roast turkey, bread, stuffing, and cranberry sauce makes for an unbeatable day-after-Thanksgiving sandwich. 
 Some people refuse to put up holiday decorations until the beginning of December, but those people are wrong. Thanksgiving is the perfect time to start decorating for the holidays with twinkle lights, wreaths, and mistletoe.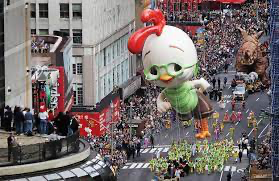 The Macy's Thanksgiving Day Parade has been a holiday institution since 1924. From balloon versions of your favorite childhood cartoon characters to performances by popular musicians, casts of Broadway shows, and marching bands from all over the country, there's something for everyone. 
Another must-see show for Animal lovers everywhere is the American Kennel Club's National Dog Show to get their fix on adorable and talented dogs. From the three NFL games scheduled on Thanksgiving Day to the variety of NCAA games played over the course of the weekend, sports fans have plenty of options when it comes to this Thanksgiving tradition. This year, the day kicks off with the Bears playing the Lions. 
In the afternoon the Bills will play the Cowboys, and the Saints will play the Falcons in the evening. If sports aren't your thing, day-long sitcoms and movie marathons are totally ok. There always seems to be a Thanksgiving marathon of the "Harry Potter" movies, all the Thanksgiving-related episodes of the NBC sitcom "Friends," and pretty much any vintage holiday movie you can think of on TV. Curling up on the couch and watching TV all day is blissfully acceptable on Thanksgiving. There's so much to do and enjoy for thanksgiving so it should be all our favorite holidays.
Leave a Comment