Ex-UVA athlete kills 3 football players and is now in custody
Three University of Virginia football players were tragically shot and killed on November 13. Junior receiver Lavel Davis Jr., junior receiver Devin Chandler, and linebacker D'Sean Perry fell victim to a crazed gunman on campus late last Sunday. 
Additionally, running back Michael Hollins and a female student were wounded, with Hollins receiving a near-fatal bullet in the back. UVA Health spokesperson Eric Swensen confirmed that both individuals are in stable condition, and expected to make a full recovery.
Local authorities confirmed that the suspect, former football player Christopher Darnel Jones Jr., was apprehended "without incident" after a manhunt in Charlottesville. According to UVA Police Chief Timothy Longo Sr., he faces three charges of second-degree murder and three counts of using a handgun in the commission of a felony. Police are still investigating the events that led up to the tragic shooting, and how Jones got possession of a firearm.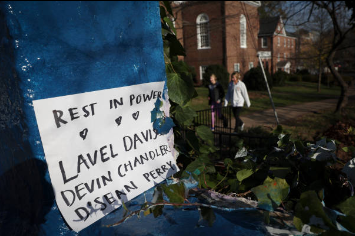 Head coach Tony Elliot made a heartfelt statement 24 hours after the murders: "I'm ready for somebody to pinch me and wake me up and say this didn't happen," Elliott said, speaking publicly for the first time since three of his players were fatally shot late Sunday.
"Today was much better, we were able to transition from the pain to finding a little bit of joy in celebrating the lives of Lavel, D'Sean and Devin," Elliott said.
"The deaths of players Devin Chandler, Lavel Davis Jr., and D'Sean Perry left three enormous holes on a team that felt more like family than anything, the coach said.
The Cavaliers athletic director Carla Williams also stated, "As a mother of three children, I ache for the parents and family members. We lost three talented and bright young men. We will never see what their impact on the world would have been, but we will never forget their impact on us. 
"I miss Lavel, D'Sean and Devin. I pray for peace, comfort and hope for their parents and loved ones. For their teammates, coaches and friends, I pray for strength and a peace that surpasses all understanding," she added.
The Cavaliers are scheduled to play against Coastal Carolina on November 19th in the Atlantic Coast Conference. Yet, the team is more focused on recovering from the incident than football. Whether they will play this weekend or not remains uncertain. 
Leave a Comment